Winners of the #Enjoyingantalya Contest Announced!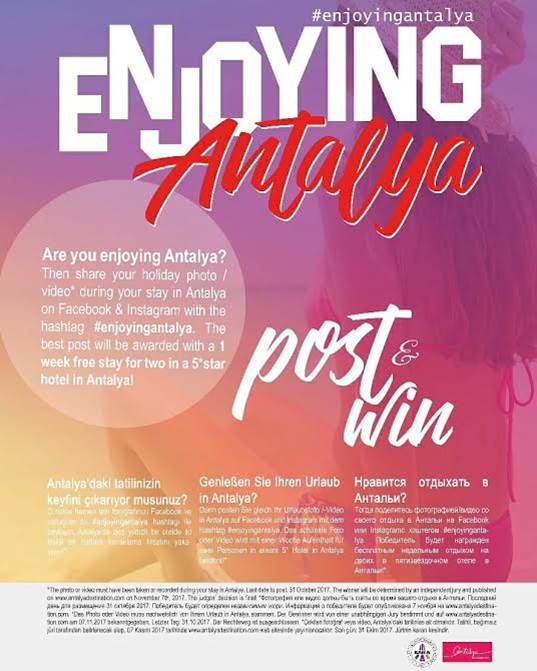 The winners of the #Enjoyingantalya contest held by Antalya the Destination have been announced.

Our guests from Turkey and abroad shared their photos they took during their holidays in Antalya with the #enjoyingantalya hashtag on their social media accounts. We reposted these on our Instagram, Facebook and Twitter accounts under the name of "Enjoyingantalya".


The final 10 entries were selected by a distinguished jury among hundreds of photos and videos reposted in our contest, which finished on October 31, 2017. The winners are listed below. The winners get a holiday at a five-star hotel.

We received many outstanding photographs and videos. Thanks to everyone who participated and helped make this competition a success!

See you in our competition next year!


Jury Members


Himmet Öcal – Owner of Orkun Ozan Medya Hizmetleri A.Ş.
Mevlüt Yeni – President of the Antalya Union of Journalists
Murat Gülaydın - Antalya Chamber of Commerce and Industry 38. Group Professional Committee Member
Mete Tekin – Antalya Chamber of Commerce and Industry Press Chief
Orhan Çakmur – Antalya Chamber of Commerce and Industry Press Officer
Assoc. Prof. Dr. Uğur Günay Yavuz - Akdeniz University Faculty of Fine Arts, Photography Department Chair
Asst. Assoc. Prof. Dr. Şemseddin Dağlı – Akdeniz University Faculty of Fine Arts, Graphic Design Department Faculty Member
Yeliz Şahin – Antalya Promotion and Tourism Development Inc. Promotion and Marketing




1st Prize
Marina Dibina (yakls) - Moscow, Russia
2nd Prize
Tejal Tanna (pinstripekitty) - London, United Kingdom
3rd Prize (Joint)
Anastasiya Balan (balannastya) - Odessa, Ukraine
3rd Prize (Joint)
Helen Stupak (ellystelen) - Borispol, Ukraine
Special Prize (Video)
Mona and Nour Dennaoui (monanour2) - Beirut, Lebanon
Video link: https://www.instagram.com/p/BW-AsmXAK6s/